Description
Brand Name:

Heltec Automation
HTCC-AB01 Overview
Perfect Arduino-Compatible!
CE and FCC certification;
Based on ASR605x (ASR6501, ASR6502), those chips are already integrated the PSoC® 4000 series MCU (ARM® Cortex® M0+ Core) and SX1262;
LoRaWAN 1.0.2 support;
Ultra low power design, 3.5uA in deep sleep;
Onboard solar energy management system, can directly connect with a 5.5~7V solar panel;
Onboard SH1.25-2 battery interface, integrated lithium battery management system (charge and discharge management, overcharge protection, battery power detection, USB / battery power automatic switching);
Micro USB interface with complete ESD protection, short circuit protection, RF shielding, and other protection measures;
Integrated CP2102 USB to serial port chip, convenient for program downloading, debugging information printing;
Good impendence matching and long communication distance.
Technical Parameters
Electrical characteristics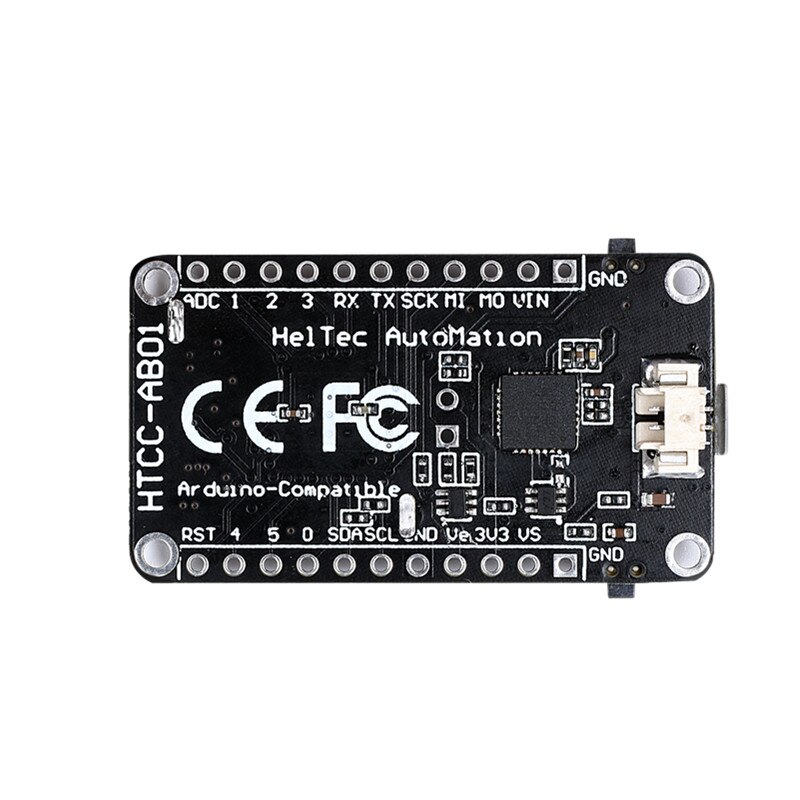 HTCC-AB02 Overview
Perfect Arduino-Compatible!
CE and FCC certification;
Based on ASR605x (ASR6501, ASR6502), those chips are already integrated the PSoC® 4000 series MCU (ARM® Cortex® M0+ Core) and SX1262;
LoRaWAN 1.0.2 support;
Ultra low power design, 3.5uA in deep sleep;
Onboard solar energy management system, can directly connect with a 5.5~7V solar panel;
Onboard SH1.25-2 battery interface, integrated lithium battery management system (charge and discharge management, overcharge protection, battery power detection, USB / battery power automatic switching);
Micro USB interface with complete ESD protection, short circuit protection, RF shielding, and other protection measures;
Integrated CP2102 USB to serial port chip, convenient for program downloading, debugging information printing;
Good impendence matching and long communication distance.
Onboard 0.96-inch 128*64 dot matrix OLED display, which can be used to display debugging information, battery power, and other information;
Feture
MCU:ASR6502 (48 MHz ARM® Cortex® M0+ MCU, 128KB FLASH, 16KB SRAM )
LoRa Chip:ASR6502 (Internal assembled Semtech® LoRa® Transceiver SX1262)
LoRa working band:EU_433, CN_470_510, EU_863_870, US_902_928
LoRa maximum output power:22 ± 1dB
Hardware resources:UART x 2; SPI x 2; I2C x 2; SWD x 1; ADCx 3
12 – bits ADC; 8 – channel DMA engine
14 x GPIO
FLASH:128KB internal FLASH
Interface:Micro USB x 1; LoRa (IPEX) x 1
Size :50.9 x 22.9 x 8 mm
USB-UART bridge :CP2102
Battery Type :3.7V Lithium (SH1.25 x 2 socket)
Battery detection circuit:√
External device power control(Vext):√
Low power design:Deep Sleep 3.5uA
868-915MHZ
433HMZ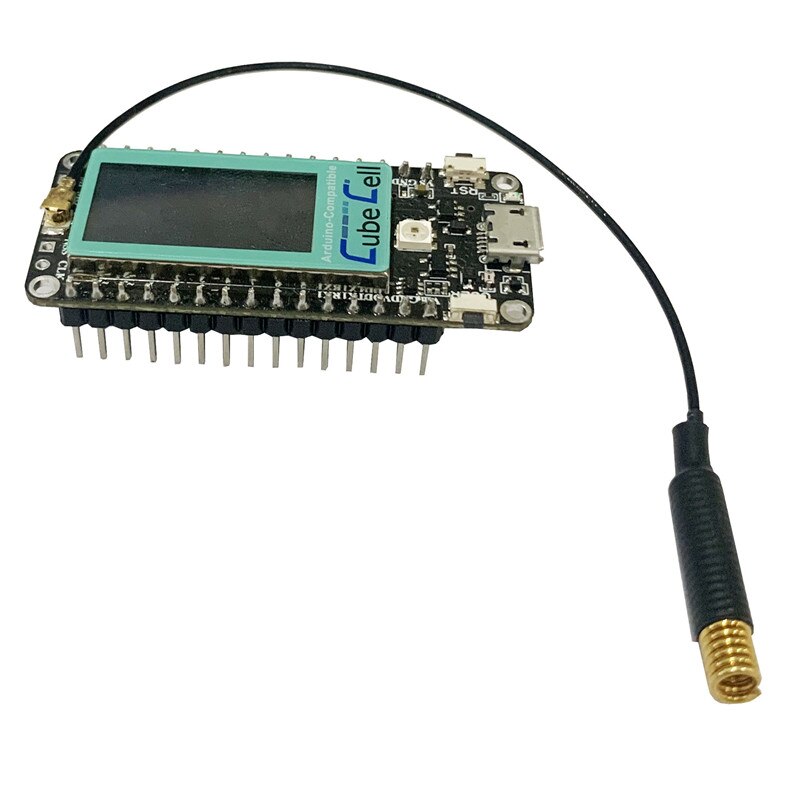 Package Include
1* Development Board (Pin header no welding in default)
1* Antenna
(Battery not Include)
If want to use on battery can buy ths cable together
We will give the package with cable on the choice .Pls check clearly