KEYCO LoRa GPS Tracker
What can I do with the KEYCO LoRa® GPS Tracker
Protect what's important to you. KEYCO helps with this through innovative tracking solutions. The KEYCO uses JT's efficient island-wide LoRa® network.
The KeyCo LoRa® GPS Tracker sends and receives data based on the new battery-saving LoRa Network Standard. With it, you can locate persons and valuable objects anywhere where there is LoRa! Attach the Tracker with a snap hook and find the exact position of the things which you love. Or create a safety zone with the App and be informed as soon as something leaves this zone or returns to the zone.
Always know where your beloved or belongings are with the 'KEYCO Plus' app
Receive messages automatically through the app
Key Functions:
Follow and find

Trace paths and enclosures
Zone warning

Define zones and receive automatic notification
SOS button

Receive emergency calls from people who need care
For multiple users

Share location information and emergency calls with others.
User friendly

Effortless installation and very easy to use
Signal lights

Confirm work and emergency calls
For daily use

Robust, light and quick to attach.
Long life battery

5 times longer than GSM standard battery life
Don't lose anything – GPS tracker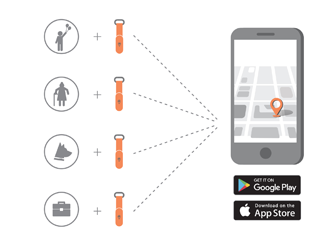 Never lose anything again with the KEYCO LoRa® GPS Tracker and the 'KEYCO Plus' app. The KEYCO LoRa® GPS Tracker sends its location to the 'KEYCO Plus' app in a selectable interval of 2, 5 or 10 minutes, thus enabling you to track routes and long stays. Finding things again becomes very easy, thanks to the street and satellite maps and the retrievable images of surroundings.
Stay informed – Safety zones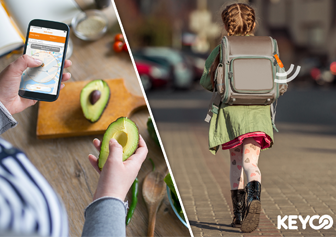 Would you like to be notified when loved ones or valuable items leave or arrive somewhere? With the 'KEYCO Plus' app you can set up to 3 zones and stay informed when your KEYCO LoRa® GPS Tracker leaves or enters a specific zone.
Provides security – Alert function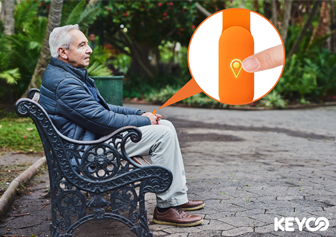 Make loved ones feel safe and make it possible for them to call you in an emergency with the KEYCO LoRa® GPS Tracker. When they hold down the function button of your KEYCO LoRa® GPS Tracker for 5 seconds, you will receive a notification via the 'KEYCO Plus' app. Of course, the current location is also passed on, so that you immediately know where you are needed.
Protect together – Share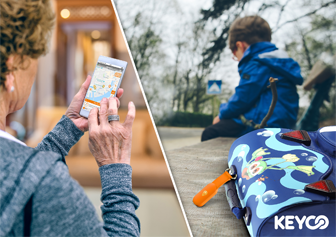 Together with family members, friends or colleagues who also have the 'KEYCO Plus' app and have access to your KEYCO LoRa® GPS Tracker, you can keep an eye on people or things. For example, responsibilities can be divided and care periods can be set flexibly.
Long-term protection – Energy efficiency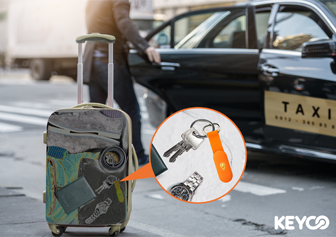 Thanks to innovative network technology, a KEYCO LoRa® GPS Tracker consumes up to five times less energy than devices that use the GSM network. In comparison to the GSM standard, the battery life of the LoRa network standard is 5 times longer (on Stand-by, as much as 125 days!) and can be recharged via Micro-USB port. This can extend the life of the battery and also makes it possible to track position data extensively. By setting a long search interval in the 'KEYCO Plus' app, you can also further reduce energy demand and extend possible operating times.
Multiple uses
The hardwearing construction of the device as well as the adaptable fitting options, means that the device can be used to track a number of your most treasured belongings. Attach the KeyCo LoRa GPS Tracker easily to clothes, bags, pets, vehicles or other valuables and locate their exact positions using the App.
The functions in detail
Locate with history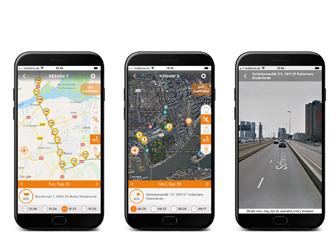 Locate everything easily via the free 'KEYCO Plus' app. Simply decide whether you want the position data to be displayed every 2, 5 or 10 minutes.
Zone warning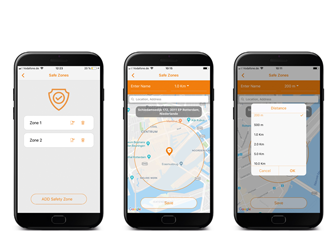 Receive notifications when your tracker leaves or enters one of a zone (max 3 zones).
SOS button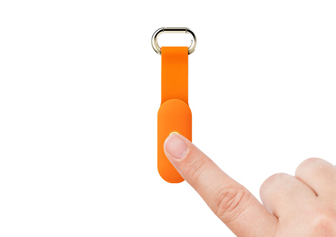 Press the button for 5 seconds and receive a message via the 'KEYCO Plus' app with the current location information. Handy for any emergency calls.
Multiple users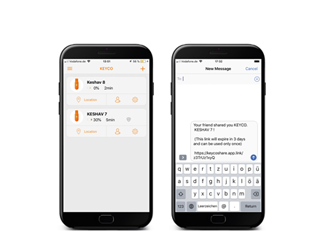 You can invite other owners to access and share protection and care with family members, friends or colleagues.
User friendly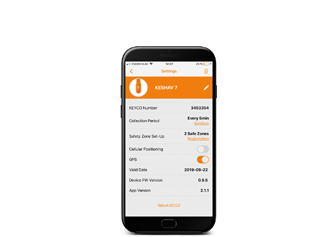 The 'KEYCO Plus' app can be easily adapted to personal preferences.
Signal lights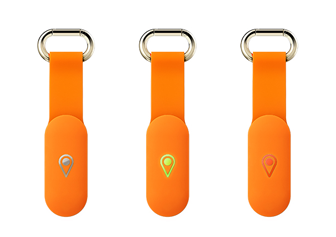 The tracker can calm a person in need. A signal light informs the person about sending the call for help.
For daily use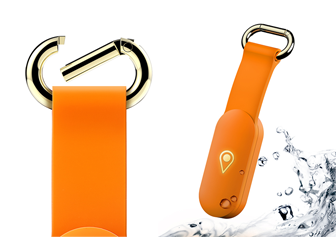 Incl. carabiner, splash protection and immunity to temperature.
Long life battery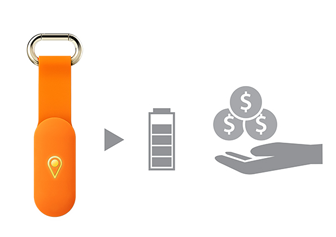 Energy efficient thanks to the use of JT's island-wide LoRa® network and setting to reduce localization frequency.
Product details:
Available Colors:Orange
Weight:25,7g
Dimensions:58.8 x 23.3 x 11.9mm (Main body) 104.6 x 23.3 x 11.9mm (with ring band)
Operating Button:1 multifunctional button
Battery type:Rechargeable 180mAh Lithium Polymer battery
Stand-by Time:>125 days in Sleep Mode
Charging Connector type:Micro-USB
Integrated LED:Blue, Red LED
Water resistant:IPx5
Connectivity: LPWA LoRa Network, Bluetooth Low Energy 4.2
GPS sensor type: Multi-GNSS (GPS/GLONASS/Galileo) All-in-One
Acceleration sensor type: Tri-axial Accelerator Sensor
OS compatibility: Min. Android 4.4 version or Min. iOS 8.0 version
Operating Temperature:-10 ~ 50 °C
Package contents: KeyCo LoRa GPS Tracker, USB cable for charging, quick guide
This device makes exclusive use of low energy LoRa network technology.
*NOTICE: LoRa Network Standard is not yet available in all EU countries!